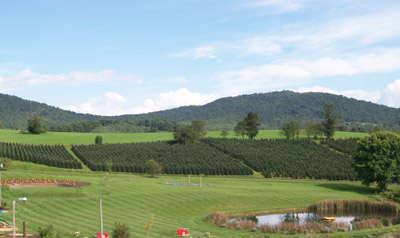 Mountain Advantage Christmas Trees has been serving the community for over 20 years. We offer convenient locations in Raleigh, Cary, and Holly Springs, North Carolina and specialize in both fraser fir and white or con-coulour trees. All of our trees are North Carolina grown and delivered weekly to insure you get the freshest tree into your home for Christmas.
Our Christmas trees range from table top size to over 14 feet, and we take great care in keeping them full, dense, perfectly tapered and uniform. At each Mountain Advantage location, Christmas trees of every size are displayed in water for you to see and to keep them as fresh as possible. You will be able to get a great idea of how the Christmas tree you choose will look in your home decorated and topped for your holiday gatherings.
Great Christmas Tree Service is a key piece to our business at Mountain Advantage. With each purchase, we will provide you with a fresh cut, as well as net and load your tree for you. All you have to do is find your perfect tree, and we will take care of the rest.
We also sell a variety of other items to help get your home in the Christmas spirit. We offer wreaths, roping, garland, tree stands, disposable bags and spouts. Come on out to Mountain Advantage Christmas Trees in Raleigh, Cary, and Holly Springs to get your family in the Christmas spirit for the season.